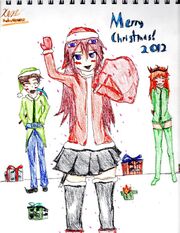 So This blog will be for poems lates events and sometimes gaming so stay tunned
My life isn't about why...it's why not!Why not love a mob talker girl! why not jump down 15 feet and almost break your ankles! why not not have a girl friend even though you may seem desperate but hey who isn't fiom time to time!
Why not love Log 1
Merry Christmas guys!
Remember Christmas isn't about getting
It's about being with the ones you love dearest to your hearts!
Ad blocker interference detected!
Wikia is a free-to-use site that makes money from advertising. We have a modified experience for viewers using ad blockers

Wikia is not accessible if you've made further modifications. Remove the custom ad blocker rule(s) and the page will load as expected.